On Thursday, April 15th we were invited to Ashley Zygmunt's ZAMRIE studio launch in Lincoln Park. The décor was amazing, and the appetizers were delicious. We also enjoyed sampling some of the punch (non-alcoholic, of course), especially since I had the fun of explaining to Cece what punch is. (She had only seen punch in the movies!) While enjoying the food, Cece saw an adorable lime-green dress that she wanted to try on. When she came out of the fitting room, Ashley couldn't help but laugh. What Cece thought was a dress was actually a tunic, and it's meant to be worn with shorts or pants. When tucked in, the tunic blouses out and looks very chic. Good thing she told us! We each bought one in different colors and can't wait to wear them.
What else we learned while we were there:
Ashley uses a lot of different silks and silk blends because she states, "They lay well on a woman's body and are comfortable. I also use fabrics that are flattering and lightweight so they move with ease." She also told us flirty and feminine clothes are going to be a huge trend this spring, so keep an eye out for all things lacy and lovely.
If you're wondering what "Zamrie" actually means Ashley wanted to incorporate her name into her label, but not so literally. One day she was just playing around with the letters of her middle name, Marie. She put a Z in front to signify her last name and after scrambling some letters, came upon Zamrie and liked the way it sounded. How unique!
Ashley spent a year with the Chicago Fashion Incubator (one of six selected designers) and now a year later her first collection is  available at Anana's in Oak Park, the CFI Pop Up Shop at the 900 Shops, and at Peg Ann Kompany in Lake Bluff.
You can also visit her at her Lincoln Park studio by appointment only. She will also be one of the featured designers in Shop IN Chicago on Saturday, May 1 from 2:00pm-6:00 p.m. at the Park Hyatt Chicago.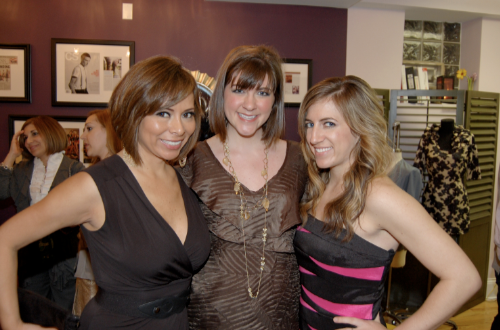 All of Ashley's designs are flirty, fun, and appropriate for work or a night out. We will be checking back with her when she announces her fall line. (And we will be sure she shows us how to wear her pieces!)